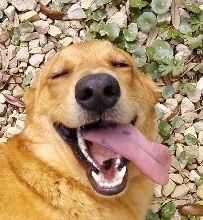 Our 2015 Fall Fundraiser (Sep-Dec) will officially kickoff with our participation at the Greater Panama City Dog Fanciers' Association's Responsible Dog Ownership Day 2015 on Saturday, Sept. 19th  9am – 3pm.
Our goal is $2,500 and during the fundraiser's 3 month run, we'll provide updates and tie it into some other events like Dog Daze in FWB.
This year we saw almost a 2x increase in the medical costs expended per Golden Rescued.  Your generous donations will help us recover!
ECGRR is a volunteer run organization and a private non-profit that does not receive any government funding. We rely on private donations, fundraisers, and grants.  100% of monies raised goes towards the care of the rescued dogs including medical, food and behavioral training if needed.   Of that,  90% is used for medically treating these surrendered and homeless dogs including heartworm treatment and spay/neutering.
Our 2014 average expenditure on each rescued dog taken into our program was $694.  In 2013 the cost per dog was $362. 
While our online system is set for a $10 minimum donation amount, we have some suggested donation amounts that give an idea of what our expenditures are with most dog intakes.  These include:
$50 6 pack Heartguard Plus
$100 Pay/Neuter assistance
$150 Medical Exam/blood & fecal test/microchip/shots
$400 Heartworm treatment (low avg)
There are many, many other costs depending on the condition of the dog that can range from a basic bath and grooming (strays picked up by animal control can be pretty stinky!), treatments for worms and other medical issues such as:
eye/ear infections
skin conditions and allergies
removal of tumors (major and minor)
hip displaysia
Every donation helps us save these wonderful animals and find them loving homes.  Just click on the donate box above.

Unable to donate? Please SHARE this post on Facebook, Twitter and email (see link boxes below). By spreading the word you can help save a furry kid. Thank you!
Thank you in advance for your generous support!