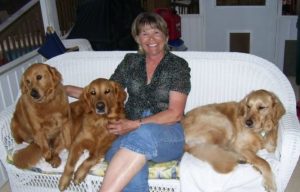 Karen Rossi passed away yesterday.
Known to many as "Kay", Karen was a long time board member,  a devoted volunteer, and for many of us a very dear friend. Her tireless efforts saved the life of many a golden. There are no words that can adequately describe her contributions to ECGRR or the large empty space her passing leaves for so many of us.
Despite the sadness, we are filled with wonderful memories of how she brightened so many lives – human and four-footed.
Please join us in keeping her family in your thoughts and prayers.