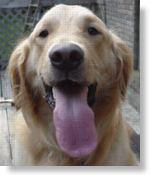 Adopting a dog is a decision that should not be taken lightly – he or she will be a part of your family for a long time, providing years of enjoyment and wonderful memories. Our goal is to ensure that all our dogs are placed in loving forever homes. 
Before you go any further, there is some important information you must review.  We hope you understand it is important for us to go through some procedural matters prior to submitting your adoption application.
IMPORTANT: Due to safety concerns, we are unable to adopt dogs to families with children under the age of 6 years old.  
Donation Structure
In developing our Adoption Program Donation Structure  we carefully balance our commitment to returning these gentle goldens to good health and providing forever homes with the goal of making adoptions affordable to deserving and qualified families.  The not-for-profit context of the Emerald Coast Golden Retriever Rescue (ECGRR) requires us to collect donations and organize fund raisers to complete our stated mission.  All funds collected are used exclusively for these gentle dogs.  ECGRR members volunteer their time, transportation and administration services; they receive no compensation.
The following donation structure represents the minimum donation required to complete our mission; however, we greatly appreciate any donation beyond the minimum!  We accept cash, money orders or Pay Pal.
| | |
| --- | --- |
| AGE | DONATION |
| Puppies up to 12 Months | $500 |
| 13 to 24 Months | $450 |
| Over two Years | $350 |
| Special Needs | TBD* |
* To be determined on a case-by-case basis
1.  All adoption contributions cover all initial vaccinations, spay or neuter services.  
When a dog is adopted prior to being spayed or neutered (due to medical condition or maybe not old enough) there will be an additional $150.00 spay/neuter deposit.  The deposit will be refunded when proof that the dog has been spayed/neutered at one of the ECGRR vets (at ECGRR expense) provided the procedure is arranged by ECGRR. NOTE: ECGRR typically does not authorize the pre-surgery blood work unless there is a medical reason to do so.  If the adopter chooses to have the dog spayed/neutered by a vet that does not partner with ECGRR, ECGRR will refund the adopter the cost of the spay/neuter up to $100 in addition to refunding the $150 spay/neuter deposit.
2.  ECGRR will disclose any known health issues prior to adoption.
3.  The 2014 average expense of rescue through ECGRR was $694.00.
4. Medical care (i.e., spay/neutering, heartworm treatment, etc…) accounts for over 90 percent of our funds.
Online Application Form
Our online adoption application form consists of basic questions in regards to your contact information, history with dogs, lifestyle, and type of golden you are interested in.  This is the first required step to start the process.
Interview and Home Visit
Any references you list (i.e. vet) will be checked an then one of our volunteers will call you to arrange an interview and home visit.  We will be looking for information on where the dog will spending it's day and evening along with it there is adequate space.  Our volunteer will discuss and be sure you (and your family) understand the needs of a Golden. All available dogs are considered  "inside dogs".  Goldens make terrible outside dogs!  We'll work with you to find the best adoption match.
We do adopt to homes/families outside of the Florida panhandle.  We may rely on the services of a "sister" rescue to conduct a home check.  Please note that it would be the adopter's  responsibility to travel to the Florida panhandle area to meet the potential adoptee as well as transport back to your home.
Our focus and concerns center on the dogs in our care and we reserve the right to deny any application and may not disclose the reason for denial.  We do not operate on a first-come first-served basis, as it is our goal to find the absolute best fit for both our dog and the adoptive family.
Click the button  below to complete the online adoption form – it will open in a new browser tab.
Please be generous with your donations.  You will be richly rewarded.
==============