Signup problems?
Not getting your copy?
Please email: editor-newsletter@ecgrr.com for help.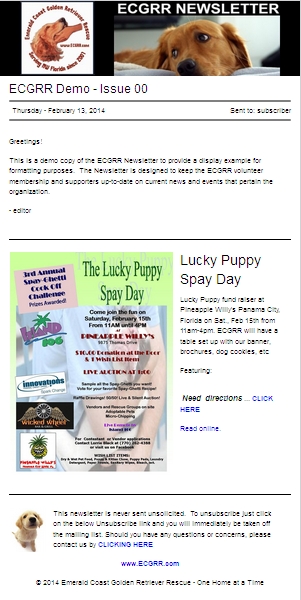 The ECGRR Newsletter is a great way to stay up to date on the happenings of the Emerald Coast Golden Retriever Rescue.  You'll get updates relating to ECGRR sent right to your email inbox – perfect for keeping up on our events and activities!
After signing up for our Newsletter (use that form  thingy to the right), you have can also select to receive the Newly Listed Dog alert and Stepping in It – Rescue Ramblings post alert. 
NEWSLETTER SIGNUP
Be sure that your email settings allow for receiving email from newsletter@ecgrr.com. 
VERIZON CUSTOMERS, SEE NOTE BELOW
 NOTE:  The following providers have email services that block our newsletter and/or any email we send to you.  This is beyond our control:
If you wish to receive any mailing from us you will need to use another email address that is not hosted by that company.