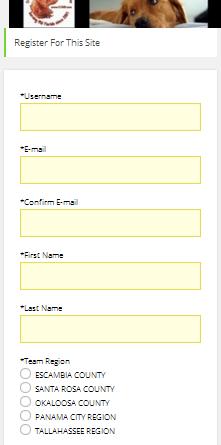 The below information is provided should you need assistance with completing the form
*Username – this will be the username you would like to use to login to the ECGRR website.
*EMail – your email address.  You'll need to enter it twice to confirm it.
*First Name and *Last Name
*Team Region – the area you volunteer in for ECGRR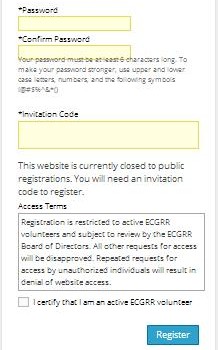 *Password – this is the password you want to use to  login to the ECGRR website.  You will need to enter it twice.  It needs to be 6 characters or more
*Invitation Code – This code is on the email that was sent inviting you to sign up here.  It is case-sensitive.  We use this to keep down on the spammers/bots that like to flood sites and jam up registration forms.
You will need to check the box certifying that you are an active ECGRR volunteer.
After completing all the above, click on Register.  A confirmation screen will be displayed.  In about 24-48 hours we'll have your information validated.
if you have any problems, contact us through THIS FORM