January 4, 2015
Back from our holiday trip up to New England and as mentioned in last month's posting, making an effort  to publish more here …
Received some great news to end the year.  On Dec 31st,  our friends at Florida Lab Rescue were able to save seven (7) 4-month old lab pups that were going to be put down in Taylor County.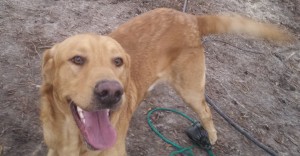 My end of the year save involved a young golden mix from Bay County Animal Control – Bentley.  He's a bundle of energy – would not stay still for a picture – but ready to please and just needs to burn off tons of energy.  Apparently that is why his owners turned him in.  Florida Lab Rescue had some initial interest in him, but on a closer look he has more golden in him than lab – very noticeable in the coat along his back.  We should be able to find his forever home pretty fast.
Received a call from one of the surrounding county officials a day or so ago, needing some help with an animal abuse case.  Can't go into all the details since it is an ongoing investigation, but involves a number of large breed dogs that will need rescue assistance – some in poor health.  Will go through my contacts and see what can be arranged.
The "Highlight" …
This past Friday turned out to be a bit of a pain in the rump.  Woke up to a number of emails and Facebook notifications demanding that we return the Johnson's dog.  First thing I'm asking is who the hell are the Johnsons?  I see  mention of "Leonard" and things start to fit together.  A breeder in Pensacola had sold a puppy to a family – the family gave the dog to someone else –  the someone else surrendered the dog to us.  The breeder thinks the dog belongs to them.  No point repeating it all here.  I posted our position on Facebook and you can read it at this link.
Anyway, back to the Johnsons … actually to Shawn Johnson.  She is apparently some sports celebrity and has about 500,000+ followers on social media. Here is a link to her Facebook page and one to her website.   Had never heard of her prior to Jan 2nd, but that changed when the below 2 entries were posted on Facebook: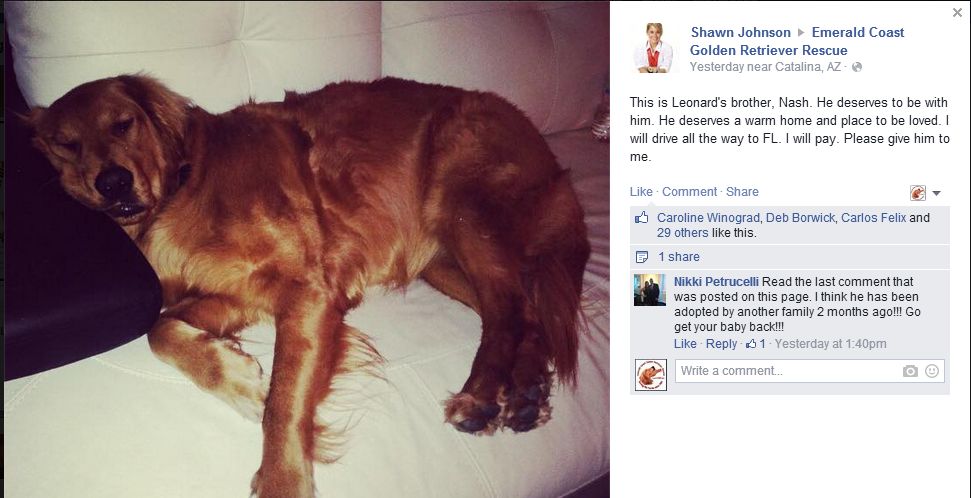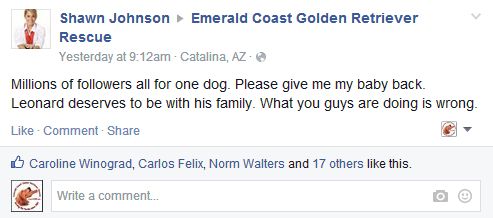 I'm was still at a loss of how Ms. Johnson is connected to all this. The family that has been making an issue about Leonard is the Patricks and the name "Shawn Johnson" has never been mentioned since the Patricks contacted us back in September 2014.  Suddenly Leonard is her "baby"?  The bit about "millions of followers" almost seemed to be an attempt to intimidate.  When I checked ECGRR's messages on Facebook, I then saw this: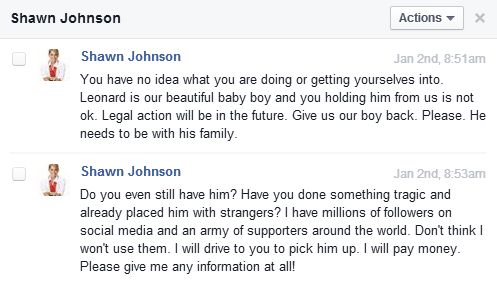 Hmmm … this has become more then an attempt to intimidate –  Ms. Johnson has now threatened us with legal action and to use millions of people against us.  The term "extortion" comes to mind.
I check my email and find quite a few about Leonard and how ECGRR needs to return Leonard to Shawn Johnson / the Johnson family.   Ms. Johnson made good on her threat. Some of the emails were polite: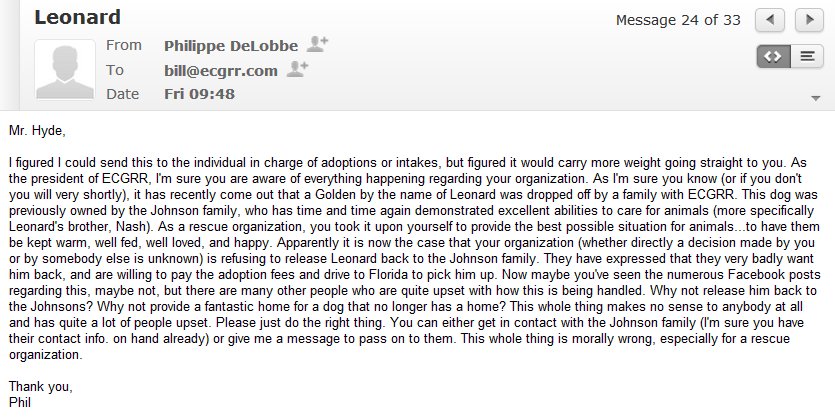 and some, not so nice: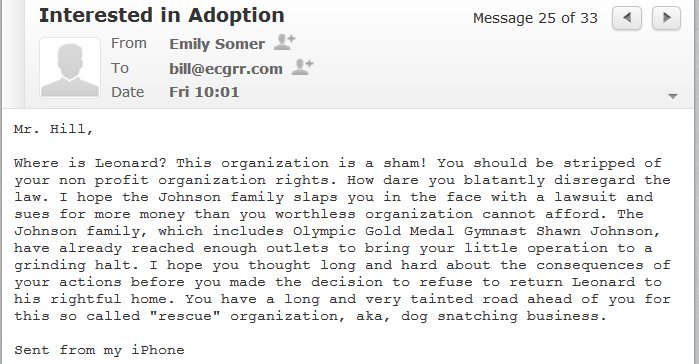 The persistent issue here is returning Leonard to Shawn Johnson, which brings up my original question of who is this person?  Figured I might as well ask, so I replied to her Facebook message with this: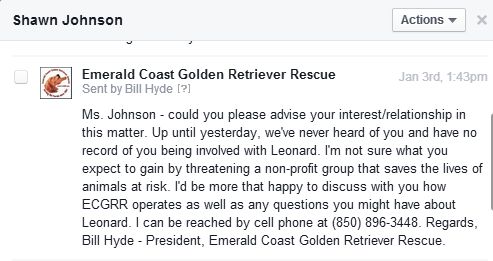 And here is the reply that I received …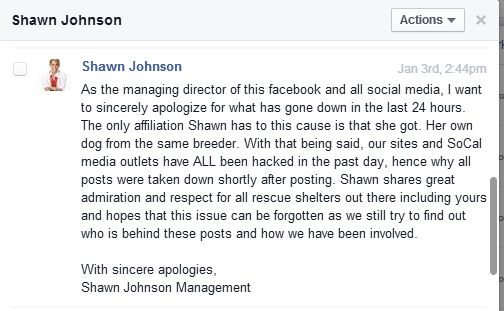 Well, there's the connection – Shawn Johnson apparently obtained a dog from the Patricks and it was not Leonard.
As for claiming her site was "hacked" … well … (cough).  Her Facebook pages have been cleaned of any posts about Leonard, but the problem is that the matter really can't be forgotten.  I still have her followers threatening us … smearing the good name of ECGRR and, in turn, impacting our mission as a non-profit (reputation, donations, etc.).  I sent the following reply back: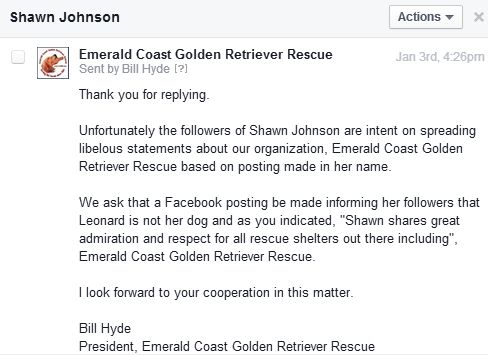 As of this writing no reply to our request has been received and we haven't seen a posting on Shawn Johnson's Facebook page as we requested.  Hacked or not, it's not too much to ask for her to set the record straight and call off the misinformed followers.
All the emails received?  I replied to each one, providing copies of a screenshot of the message sent to me by Mr or Mrs "Shawn Johnson Management" (they couldn't even include their name?!) along with my cell phone number to contact me if they required additional information.   I have yet to receive a reply back apologizing – never really expected any – but have received a number of calls with people hanging up as soon as I answered.
There really is a bright side to all this.  After I had posted our position regarding Leonard on Facebook, we had an outpouring of wonderful comments from our supporters.  I really enjoyed reading each and everyone.
Side note: I was contacted by a rescue group in Ohio that experienced something similar.  With their case, they advised that they were repeated harassed and one of the director's homes had been broken into.  They further stated that the "Leonard matter" is now being circulated among the groups that had targeted them.
I'm sure I'll have more about this to post in the weeks to come ….