01/11/2015
Friday found me taking one of the local vets to meet with the management of a county (Bay) animal control facility.  Good networking on a couple of levels.  Bay county has made major, positive changes with how surrendered/stray animals are handled and I've been very impressed. Intake/adoption's made efficient, incoming animals inoculated, pro-rescue, proactive adoption programs … and so on.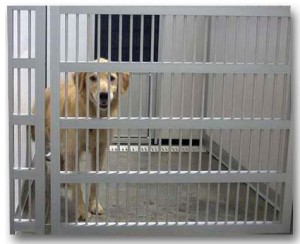 Considering how operations used to be, they have come a very long way in the right direction.
Flashback: In 2007 I had to deal with a  situation with the Bay County facility where a golden we tried to save ended up being destroyed.  It involved a major screwed up involving bureaucracy, administrative malfeasance and a management that did not give a crap.  It was tragic, but I hope that my campaign of awareness  that came from it helped push the county in the right direction.
The picture here is of the little girl that was killed.  I took it just after I told her I'd be back the next day to get her out.  She was gone the next day.  I've seen plenty  crappy things in my life … some haunt me more than others … her smiling face is one of them.  You can read the story HERE, at Land of Pure Gold and I encourage you to do so – please.  It was one of those significant moments in my life that drives me today to try and help/be an advocate for these wonderful creatures.
I can say with considerable confidence that the changes that have occurred in Bay County since then would prevent this from happening today.  Unfortunately this isn't the case with several counties in the Florida panhandle.
* * *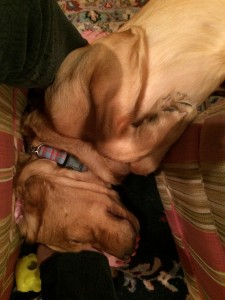 Saturday saw me on the road with Bentley – taking him partway to his new foster home. He initially caught the eye of Florida Lab Rescue and they asked me to check him out for them.  After I saw how much golden he had in him I decided to see if our board would agree on us taking him.  They did.
The hour and 1/2 drive allowed me to get to know Bentley a bit.  He has a great personality … smart … and the family that provides him his forever home will be very, very lucky.   Any worries that he would not fit in at his foster home were quickly doused when I got this picture sent to my phone.
One tired puppy from all the traveling and meeting new people.
* * *
Still dealing with the Leonard issue.  Scheduled to talk with our attorney's Monday.  I prefer to spend my efforts saving dogs and not having to deal with self-centered people that have no idea how we operate and are determined to negatively impact the mission of ECGRR.
Off to share the sofa with our furry kids …