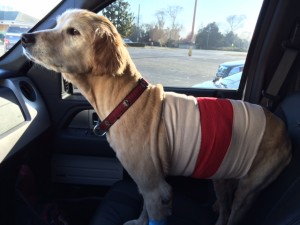 We mentioned Honey as our New Years eve success story last week.  She came to us with very large visible tumors and, to be honest, we feared the worse.
This past Wednesday, Honey had surgery. She did well and the doctor removed a volleyball sized tumor and a grapefruit sized tumor from her stomach. She spent recovery time at the clinic and went home on Thursday.
The tumors were tested and were determined to be benign/fatty growths – not cancerous as we feared at first!
NOTE:  The first vet we brought Honey to, opined that she should probably be euthanized.  ECGRR didn't see it that way!