01/27/2015
In an earlier post I introduced Sherman, a stray male we took in from Chipley.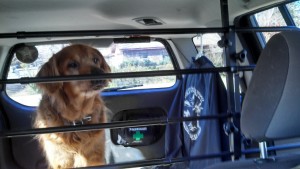 This morning has been set aside to pickup  Sherman from boarding at the vet and transport to his new foster.  For a change of pace, the vet had him ready to go when I arrived.  I, however had left the house with out treats for the ride. A very big "no-no" in the puppy rescue business.  Always have treats ready and available.  The furry kids expect it!!
So I load up Sherman and add the travel delay  of running back to the house to grab the treat bag I left on the kitchen counter.  I really expected my "kids" to have discovered it only to find shredded plastic on the floor.  By a miracle it was still there on the counter.  I grab it and we're on the road.
On the way out of town I get behind a pickup that is carrying 2 medium sized dogs in the bed – one of my pet peeves – dogs in the beds of trucks.  These guys aren't tied and are free to jump out if they want to.  I don't care how well behaved they are. Worse, they could fall out if the truck had to stop or swerve suddenly.  People can be so clueless, or they just don't care.  Maybe it's a bit of both.
One time up in Marianna I saw some "genius" driving down the road and there was a dog perched on the tool box.  The driver decides he needs to turn around and pulls into and parking lot.  He went so fast, the dog flew off the box and onto the asphalt of the parking lot.  The driver almost didn't notice, but did stop, got the dog back in the bed of the truck and took off down the road.  It didn't look like the dog was hurt – but who knows.  My PSA for all this:  if you know of anybody that travels with their dog this way, PLEASE – PLEASE ask them not to.  It will lead to a very tragic ending.
Anyway, back to Sherman ….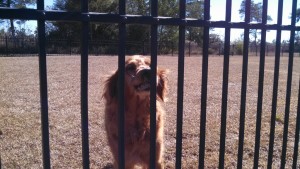 The trip goes fine and the treats were well received during the ride – I really should have brought more.
We get to the new foster.  Sherman is off to explore the fenced yard and we notice that he has a little hobble in his gait.  The wasn't seen before – this was the first time we had him off leash.  We'll need to add this to the list of medical things he needs to have addressed.
I pass on his paperwork, make sure the foster is all set and head back home.  A few hours later I get a call from his foster.  As I answer I'm thinking, "oh crap … Sherman is not a good fit there and needs to be picked up".  Not the case (sigh of relief).  He's doing just fine and is even learning to use a crate.  The foster just wanted to let me know that it looks like Sherman had part of his tail cut off – an old injury.  As we talk about it I start to wonder that with the strange gait, maybe he had been hit by a car when he was younger.
As with most of the strays we get in, I wish they could only talk and tell us the whole story of what happened.
The foster also tells me she thinks Sherman may only be 5-8 years old.  He has a great energy level, his back teeth don't show much tarter buildup and his pads are still rather soft.  We'll have to see what the vet says when he goes in next week to set up his treatment schedule for heartworm, eyes, etc..
On a side note – Sherman does not appear to be very responsive to being called, "Sherman".  Maybe we should change his name to something else … like Leonard.
* * *
The day's bonus upside.  My buddy Bryan stopped by after work with this most excellent sampler.  Looks like I have some sampling to do while the furry kids keep me company on the sofa …