Intakes, Biscuits and . . .
01/19/2015
My "To Do" list was already full coming back from our long weekend.  The day we left found me staring at the underside of the sink in the the guest bathroom.  It had developed a crack and I was not about to hold off our departure to fix it – so now need to install a replacement vanity top – after I get through some "puppy business" ….

On the way back home, followed up on the senior in Escambia county.  Came to them as a stray and we took him in. He was quite the stinker … a yeast/skin infection was partly to blame in addition to just needing a thorough bath.
Code named "Stinky" until we had him settled in with a foster, he is now Charlie! He should be up on our website as I typed this.
From last week: We took in the little female from Taylor county and the transport assistance for Florida Lab rescue went well.  The little girl has some social issues to be addressed (never lived inside) and came to us in heat.
*  *  *
1/21/2015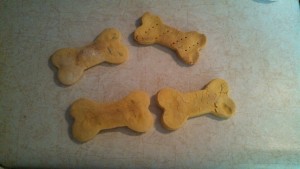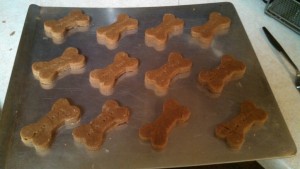 We posted a recipe for dog biscuits (pumpkin) on our Facebook page.  Thought I'd give it a try and they came out pretty well.
More importantly, when it was time to "taste test" I had several drool puddles on the kidtchen floor that needed to be cleaned up.
Conclusion: the endeavor was a great success.
It went over so well, I found another basic recipe and decided to make some peanut butter flavored biscuits.  These were an even bigger hit with the "kids" and will definitely be making on a regular basis.
Will also try some other flavor variations.
Thinking of beef or chicken (using a broth).  Bacon might also work.  Cheaper than a box of "Milkbones"?  No – but easy and quick to make plus all natural ingredients.
 * * *
01/23/2015
Headed up to the Chipley Animal Control facility to look at/evaluate/pickup a male golden they called about.  The Chipley facility has made some great strides in saving animals that end up there.  When I first started dealing with them a few years back, it was very difficult for rescues to pull from there, let alone get access.  Belva, the current manager has changed all that and has an impressive network of rescue contacts to help as many animals as she can.   When she calls, I don't hesitate to make the drive (about an hour) to see what she has.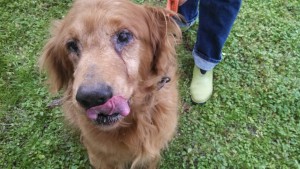 With this trip I met Sheman, an older golden male with some eye issues … they both looked infected and I suspect his vision was impaired.  The picture to the left shows how they are weeping.
Sherman also had a lump on his neck that needs to be looked at and is in need of being neutered.   We'll see what his heartworm status as well as any other medical issues that need to be addressed.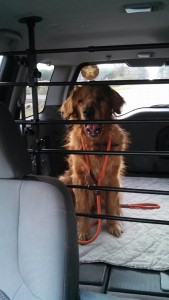 A bit skittish in the kennel, he warmed right up outside and was excited to meet me, Sherman knew a few basic commands and was quick to sit when a treat seemed to be the reward.  He had a great disposition (typical golden) and there was no doubt that he would be going with ECGRR.
He seemed to enjoy the ride from Chipley – a bit restless – but thrilled to have human company and being talked to.  As a reward for being such a good passenger, there was a good supply of homemade dog biscuits (see above entry) that were quickly scarfed down.  I'll have to make it a habit to bring a supply with me on future trips.  They make great "ice breakers".
I dropped Sherman off at the vet for a full exam and neutering.  He'll get a bath/nails clipped before that as well as microchipped.  I hope his eyes are something minor and that his vision, if impaired, does not suffer any permanent problems.
 * * *
01/24/2015
Word back on Sherman: hook and whip worms, lump is cyst that can be monitored, eye entropion and he is heartworm positive.   He is recovering from being neutered and the vet is placing him at just over 10 years old.   He's got a bit of a road in front of him, but we'll get him back to full health and into a loving family.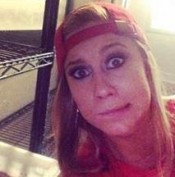 For our critics I'll throw in a sarcastic "here's another show dog we took in to get a handsome profit".
Speaking of which, still have not seen an apology from Shawn Johnson … still curious as to the circumstances that led to her getting involved in the first place with the The Leonard Issue.  She may have erased all mention of it from her Facebook page, but that does not make it OK.
Now to enjoy a day at the lake with the furry kids …