January 8, 2015
When I last wrote, Olympic celebrity Shawn Johnson had removed any mention about ECGRR and Leonard from her Facebook page (and Twitter feed).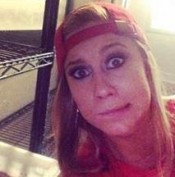 Refresher: on January 2nd of this year, a post attributed to Ms. Johnson was made to her 500k+ Facebook followers stating that she was the owner of a golden named Leonard and ECGRR would not return her dog. She sent a Facebook message that threatened ECGRR with legal action and advising that she had an army of supporters around the world and would use them.  ECGRR board members then started receiving emails demanding we return Leonard to Shawn/the Johnson family.  Posts of a similar nature started to hit our Facebook page.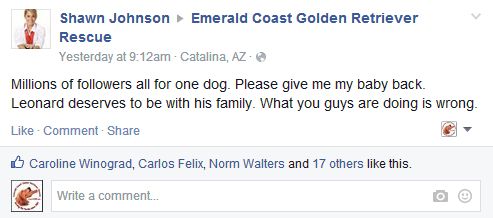 SHAWN'S PROBLEM:  Leonard is not her dog, and never was. In other words, the post leads one to the  conclusion that Ms. Johnson apparently lied to her 500k+ followers along with threatening ECGRR with legal action and to use an "army" to pressure ECGRR to give her Leonard – a dog she never possessed (maybe never had even seen).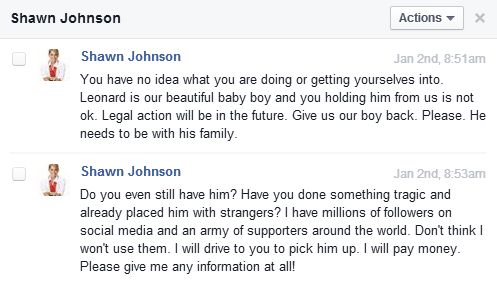 SHAWN'S BIGGER PROBLEM:  Ms. Johnson was scheduled to appear on Celebrity Apprentice with Donald Trump a few days after the threat was made to ECGRR.  Her image is pushed as a wholesome, mid-western, all-American girl.  The image is so wholesome that she represents the charity Character Counts and has endorsements with Nike.  Misinformation and attempts to extort a dog rescue group do not compliment this public image so Shawn's management staff removed all posts regarding Leonard, proceeding as if the incident never happened.  We received an unsigned Facebook message claiming a "hack".
Still waiting for an apology/retraction from Shawn and some post backing up the hack explanation.  Just something to set the record straight considering the damage to our reputation that was made.  Messages to her publicist/manager have not been returned.
Frankly, I'd never heard of Shawn Johnson prior to this.  It was learned that she does have a golden retriever named Nash, that had been purchased from the Patrick family and apparently is Leonard's litter mate.  Quite a coincidence that any hacker would be aware of this and have a picture of Nash.
The Patrick family has been demanding we turn over Leonard to them. Make your own conclusions from all the above.
I did reply to all the emails and messages from Shawn Johnson supporters and advised them what had happened.  I only received two replies back and one apology.
***
A few days later our Facebook page starts to get some very negative posts again and attempting to connect us to an ongoing legal case in Ohio, involving a Sheltie rescue.   When it became clear that the cases were not factually comparable,  most of the posts dropped off.
***
One of our board members mentioned that we should post something on Facebook to let everyone know Leonard has completed his heart worm treatment, is healthy and will continue to have veterinary care for the rest of his life.  I had to think about it at first — I was pretty sure we mentioned in a few posts that he was healthy and fine.  It did occur to me that Facebook content tends to roll off the page and be forgotten in a relatively short period.  The board member was right – we should post something – but here instead so it is easy to point to.  So here goes;
Leonard has been treated for heart worms as well as his ear infection and skin issues. Behavioral issues were addressed and effectively corrected.  Leonard is healthy and enjoying life with his forever family
With that said, I think I'll address a few issues:
1. It is ECGRR's position not to debate issues such as "Leonard" in front of the "court of public opinion". It serves very little purpose and distracts from us handling matters pertaining to rescuing and finding good homes for these wonderful creatures.
2. It is ECGRR policy to protect the privacy of all adopters.  We do not release their information – period.  As demonstrated by experience, we've found that there are parties that may harass adopters in order to pursue a personal agenda. Our adopters need to be assured that they are not bothered by misguided individuals interested in disrupting our adoption process.
3.  ECGRR's Facebook page is an extension of the organization.  All content is at our discretion and we will remove anything that is determined to be in conflict with our mission.  In other words, we will delete posts we don't feel are appropriate on our page.   For those that seem to have a problem grasping this concept: would you tolerate strangers writing offensive graffiti on your house walls? Probably not.
4.  As president of ECGRR I will not tolerate threats or libelous content to be spread about the organization and will pursue actions accordingly.  If you doubt my sincerity in this, I refer you to Shawn Johnson and her staff.   Should you wish to join the ranks of some misinformed/manipulated pawns, knock yourself out.
5. We have a number of supporters and adopters from a variety of walks of life and professions.  They all share the same passion we do in rescuing these wonderful dogs.  Many volunteer their time and money to make us a success.  I thank them all for the supportive comments and attempts to correct misinformation that was posted about us.
6. We do not own, maintain or rent an airplane.  It would cut into the maintenance costs for our fleet of yachts and limousines we keep at our waterside country corporate offices (follow the signs as you enter the private golf course).  Seriously, when I heard  this allegation I fell out of my chair – probably best one yet.  We frequently get help from the wonderful volunteers at Pilots n Paws.
Think that about covers it for now.